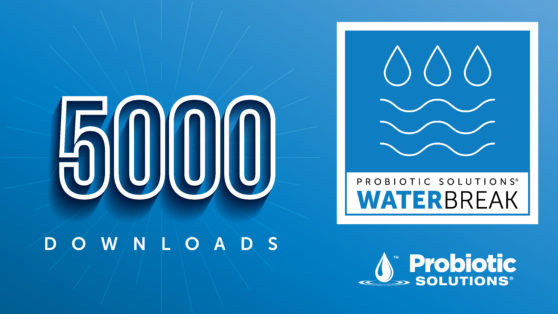 Our Water Break podcast has made a splash by reaching the milestone of 5,000 downloads this week. The steady growth of this project feels like a pat on the back and helps us stay motivated to come up with new content for our listeners each month.
According to the statistics report from Blubrry, our podcast hosting service, we have completed 5,014 downloads so far! It's interesting to know that during the last 30 days we noted a 34% increase in downloads. Since we are now averaging close to 300 downloads per month, many would agree that these numbers look great for a podcast that caters to a very specific audience.
We have to take a moment to acknowledge our fantastic host, Heather Jennings, for her tireless work on the Water Break podcast. It is Heather, along with our wonderful guests, who keeps things interesting and helps spread the knowledge about wastewater and all its fascinating aspects.
Congratulations and a big thank you to everyone who contributed to making The Water Break Podcast a success with 5,000 downloads. We look forward to recording many more episodes and reaching many more milestones!
To view and listen to the 25 podcast episodes, click here or subscribe to The Water Break Podcast through your favorite podcasting service.